Anything for a safer place to do business
We protect organisations from digital threats by making the knowledge and experience of our quality experts available to entrepreneurs at all times, no matter what. Your safety is our top priority.
View vacancies
How it started
In 2020, three Dutch national security employees set out on a journey to develop Eye. The founders had served AIVD and MIVD for numerous years, after which they made the decision to make high quality cybersecurity available for the most vulnerable companies: SMEs.
A few months following the start of their journey, two more former AIVD employees joined them and became co-owners of Eye. Now, our board consists of five former AIVD & MIVD employees, who have years of experience in fighting cyber crime and protecting national security. Eye is the first European cybersecurity company to offer an all-in-one-package for SMEs. Our mission is to cyber protect every SME within Europe.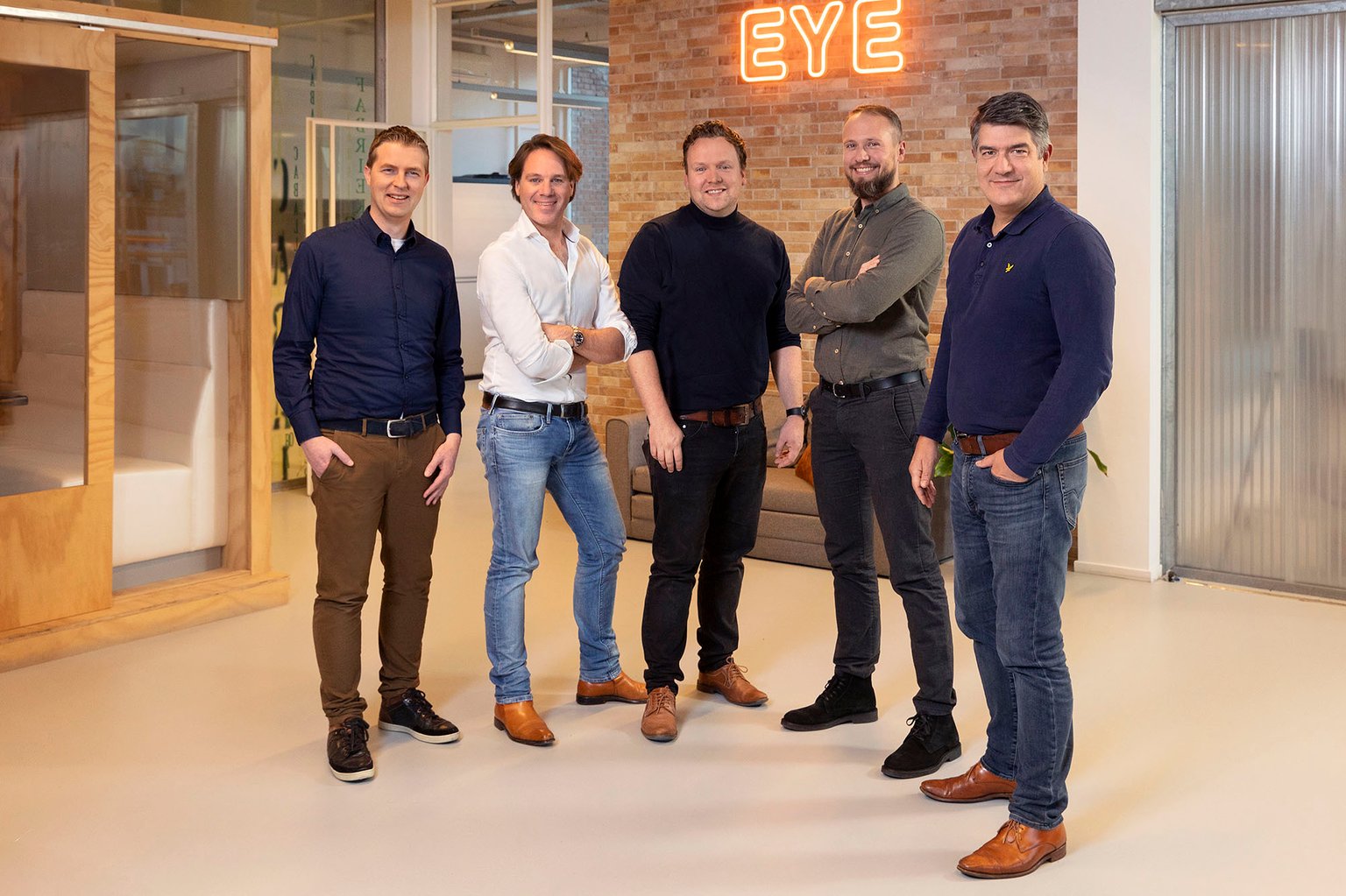 Vision
We often talk about how cyber crime is one of the biggest threats for SME's. At Eye, we understand that when an SME-company falls victim to a ransomware-attack, it not only causes financial damage, but it also impacts people's jobs and the company they've helped to build all these years. It puts everything on hold for days, sometimes weeks. Because we are entrepreneurs ourselves, we appreciate that our clients trust us as their security partner.
62%

of all ransomware victims were SME businesses

€220.000

is the average amount of damage done by ransomware in SME

700%

is the total increase of ransomware in 2021
Meet the people behind

Eye
Ali Al-Kaswan

Incident Responder

Marcel van Asperdt

Technology Advisor

Berend Baardse

Threat Intelligence Lead

Oberon Berlage

Software Developer

Vaisha Bernard

Principal Cybersecurity Specialist

Cas Bilstra

Lead Risk Intelligence

Martijn Bosma

Cyber Security Specialist

Marianne den Engelsman

People and Culture Manager

Rik Dolfing

Cybersecurity Specialist

Ronald Fabbro

Head of Marketing

Peter Franssen

Head of Advisory

Malou Gouma

Office Manager

Rein Groot

Chief Product Officer

Tom Habekotté

Campaign Marketer

Arjan Halma

Insurance Manager

Mara Jochem

Project Lead Marketing

Shari Joosten

Cybersecurity Specialist

Yu Han Koopmans

Community Manager

Louise Kuipers

Cybersecurity Specialist

Alex Leering

Software Developer

Tjeerd Legué

Incident Responder

Anne Masson

CEO Eye Security Belgium

Koen Meeuwisse

Compliance Officer

Dennis Mouwen

Cybersecurity Specialist

Tijmen Mulder

Incident Response Lead

Aad van Musscher

Head of Sales

Nikki Pessers

Corporate Recruiter

Ruerd Piek

Delivery Engineer

Colin Pollitt

Sales Executive

Bas Rentenaar

Sales Executive

Joosje van Riel

Privacy Officer

Martijn van Rookhuijzen

Head of Delivery

Nadine Stos

Marketing & Sales Business Development

Yasin Tas

Incident Responder

Niels Teusink

Principal Cybersecurity Specialist

Martine van der Veen

UX Designer

Naomi Warmerdam

UX Designer
We're hiring!
Looking for the next step in your career? Let us know and become part of our mission!
View open positions