Eye

am on a mission
Bij Eye Security zetten we ons in om Europese bedrijven volledig te ontzorgen op het gebied van cyberveiligheid. Dat doen we met een team van experts dat zich jarenlang heeft ingezet bij de Nederlandse Inlichtingen- en Veiligheidsdienst. Sluit je je aan bij onze missie?
Vacatures
Waarom Eye is opgericht
In 2020 begonnen drie werknemers van de nationale beveiliging van Nederland met de ontwikkeling van Eye Security. De oprichters hadden talloze jaren gewerkt voor de AIVD en de MIVD, waarna ze besloten hoogwaardige cyberbeveiliging beschikbaar te maken voor de meest kwetsbare bedrijven: ondernemingen in het midden- en kleinbedrijf.
Een paar maanden nadat ze dit avontuur aangingen, sloten nog twee voormalige medewerkers van de AIVD zich bij hen aan, als mede-eigenaars van Eye Security. Momenteel bestaat ons bestuur uit vijf voormalige werknemers van de AIVD en de MIVD, die samen meer dan 150 jaar ervaring hebben in de bestrijding van cybercriminaliteit en de bescherming van de nationale veiligheid. Eye Security is het eerste Europese cyberbeveiligingsbedrijf dat een totaalpakket biedt voor kleine en middelgrote bedrijven. Het is onze missie om elke mkb-onderneming in Europa te beschermen tegen cybercriminaliteit.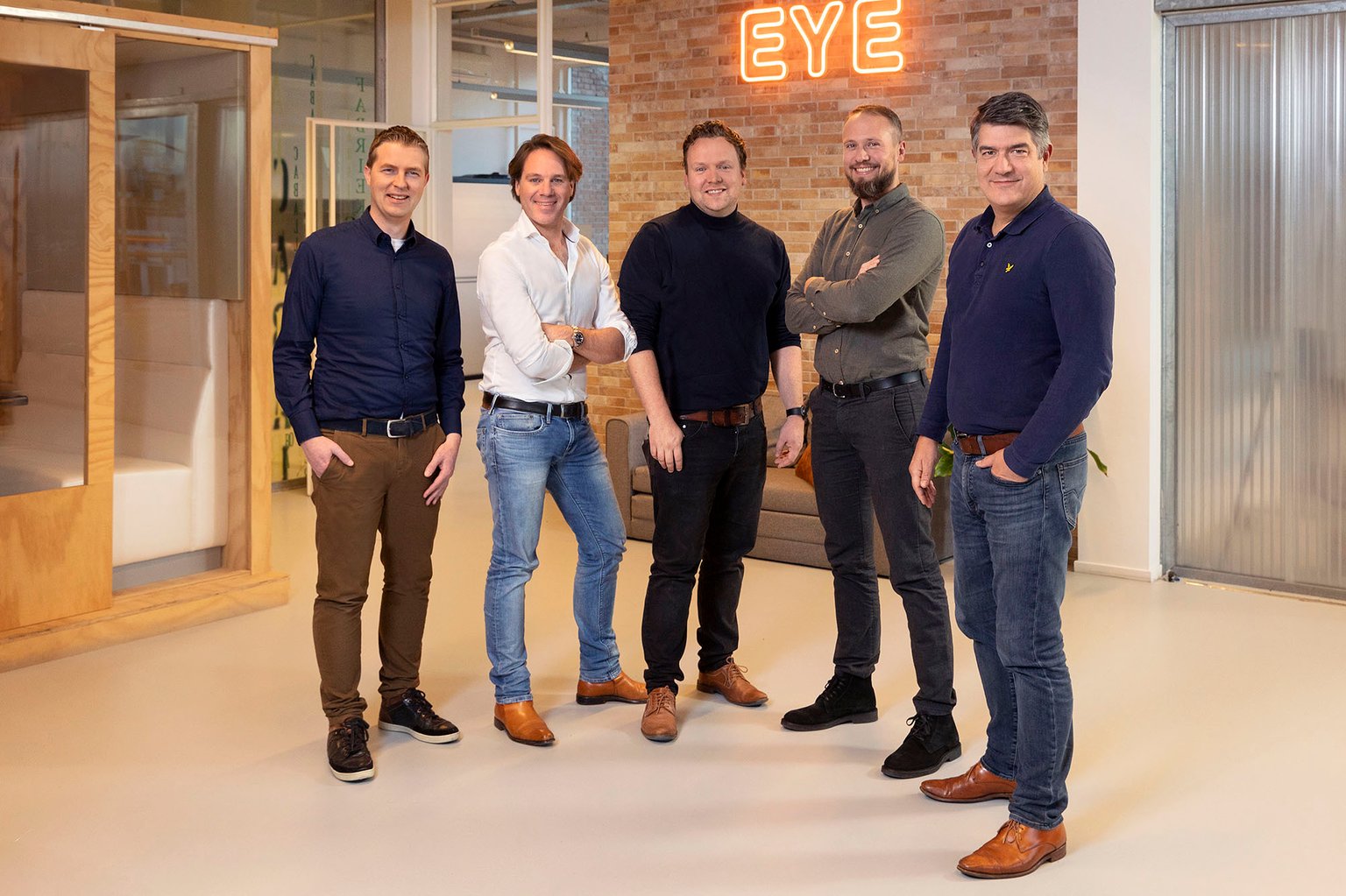 Visie
We hebben het er vaak over dat cybercriminaliteit een van de grootste bedreigingen is voor het mkb. Bij Eye Security begrijpen we dat wanneer een mkb-onderneming ten prooi valt aan een ransomwareaanval, dat niet alleen financiële schade veroorzaakt, maar ook gevolgen heeft voor de banen van mensen en voor het bedrijf dat ze al die jaren hebben opgebouwd. Alles valt stil, dagen, soms zelfs weken lang. Omdat we zelf ondernemers zijn, waarderen we het dat onze klanten ons vertrouwen als hun beveiligingspartner.
62%

van alle ransomware-slachtoffers is mkb

€220.000

is het gemiddelde schade van een cyberaanval in het mkb

700%

is de totale toename van ransomware-aanvallen in 2021
Ontmoet de mensen achter

Eye
Ali Al-Kaswan

Incident Responder

Marcel van Asperdt

Technology Advisor

Berend Baardse

Threat Intelligence Lead

Oberon Berlage

Software Developer

Vaisha Bernard

Principal Cybersecurity Specialist

Cas Bilstra

Lead Risk Intelligence

Martijn Bosma

Cybersecurity Analist

Marianne den Engelsman

People and Culture Manager

Rik Dolfing

Cybersecurity Specialist

Ronald Fabbro

Marketing Consultant

Peter Franssen

Head of Advisory

Malou Gouma

Office Manager

Rein Groot

Chief Product Officer

Tom Habekotté

Campagne Markerteer

Arjan Halma

Insurance Manager

Mara Jochem

Head of Marketing

Shari Joosten

Cybersecurity Specialist

Yu Han Koopmans

Community Manager

Louise Kuipers

Cybersecurity Specialist

Alex Leering

Software Developer

Tjeerd Legué

Incident Responder

Anne Masson

CEO Eye Security Belgium

Koen Meeuwisse

Compliance Officer

Dennis Mouwen

Cybersecurity Specialist

Tijmen Mulder

Incident Responder

Aad van Musscher

Head of Sales

Nikki Pessers

Corporate Recruiter

Ruerd Piek

Delivery Engineer

Colin Pollitt

Sales Executive

Joosje van Riel

Privacy Officer

Martijn van Rookhuijzen

Head of Delivery

Nadine Stos

Marketing & Sales Business Development

Yasin Tas

Incident Responder

Niels Teusink

Principal Cybersecurity Specialist

Claudien ten Velde

Stagiair

Naomi Warmerdam

UX Intern
We're hiring!
Op zoek naar de volgende stap in je carrière? Laat het ons weten en word onderdeel van onze missie!
Vacatures