Eye Security has recently been awarded with the ISO/IEC 27001 certification. This certification enables Eye Security to manage the security of assets such as intellectual property, sensitive information or financial information.
Job Kuijpers, CEO of Eye Security: "The certification demonstrates our commitment to maintaining and protecting information security for customers and employees. We are proud to be certified and provide reassurance to our customers."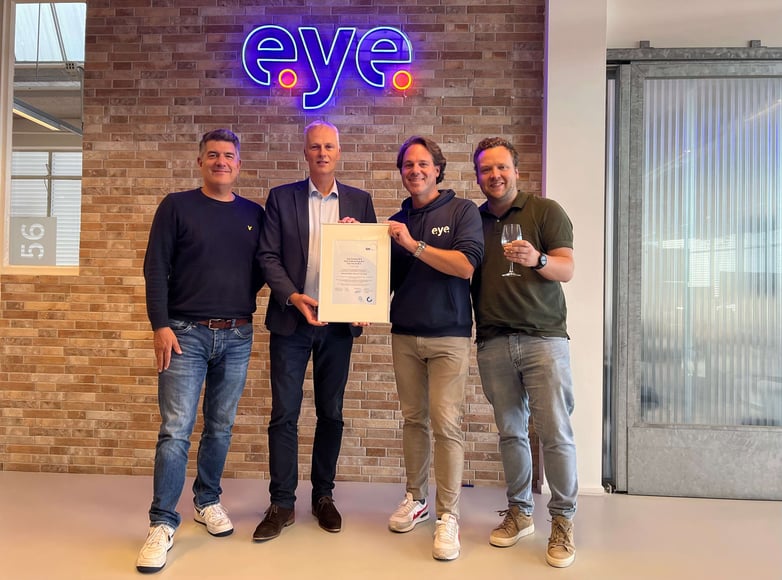 TÜV
TÜV Nederland is a technical and business service provider in independent assessments such as certification, testing, inspection and training. TÜV finalized the ISO 27001 certification process at Eye Security by auditing the information security management system (ISMS) and its procedures. To support companies in their preparation for the certification project, Vincent Schijven from TÜV Nederland and Marcel van Asperdt, Security Officer at Eye Security, share tips and explanations in this video.
About ISO 27001
ISO 27001 is a globally recognized information security standard created and published by the International Organization for Standardization (ISO), the world's largest developer of voluntary international standards, and the International Electrotechnical Commission (IEC). It is a specification for an information security management system (ISMS). An ISMS is a framework of policies and procedures that includes all legal, physical and technical controls involved in an organization's information risk management process.
About Eye Security
Eye Security, founded in 2020, makes cybersecurity feasible and affordable for European businesses. With a growing team of security experts, Eye mainly focuses on securing the engine of the economy: SMEs. In addition to the head office in The Hague, the company has branches in Belgium and Germany. Eye Security offers a high-quality, affordable all-in-one security product. Subsidiary Eye Underwriting, founded in 2022, offers customers an independent cyber insurance product. Read more about Eye Security here.
Published on October 11, 2022